Regular price
$17.00
Sale price
$10.00
Unit price
per
41% off today!
Sold out
🚚 Free shipping over $50
✈️ Express shipping available (AU/NZ)
---
Our acrylic paint pens are perfect art supplies for everyday doodlers, avid journal folk, and wannabe illustrators alike. If you've got something to draw on, these are for you.
This 10 pack of acrylic paint pens includes:
✔ 8 Vibrant Coloured Markers
✔ 1 White Marker
✔ 1 Black Marker
We've curated timeless, complementary colours for brilliant palettes and easy-to-add finishes to your Paint n' Pot and Pottery Kits.

Acrylic Paint Pens For Pottery, Mirrors & More

Paint brushes are great and all, but sometimes you just want the precision of a pen.

Pimp out almost anything with these nifty painting pens. From finished ceramics to paper, fabrics, furniture and whatever else you wanna doodle on, our premium paint pens will have you wondering if you missed your calling as a professional illustrator.

With 10 complementary shades to choose from, whatever you design is sure to look fine as crock.
Eco-Friendly & Toxic-Free Paint Markers

Yep you read that right, these sweet lil ol' pack of painting markers is eco-friendly and toxic-free.

Why? Because single-use plastic is ew and safe is sexy!

Crockd Paint Pens are good for the globe. Our paint pens are filled with non-toxic paint, because nobody needs that negativity in their life.

You'll be hard pressed to find any single-use plastic here - from the packaging they come in, to the pens themselves, everything is recycled/recyclable, so you can create with a clean conscience.

That's some serious fuss-free doodling!
Drawing & Painting FAQs

👇 Who are these for?
Our acrylic paint pens are the best you'll find in Australia - period. They're perfect for everyday doodlers, avid journal folk, and wannabe illustrators alike. If you've got something to draw on, these are for you.



👇 What can I use the paint pens to draw on?
Almost anything! Except maybe the dog. But finished ceramics, paper, fabric, furniture, and your latest air-dried clay creation all make fantastic canvases.



👇 Will my designs last or will they wear off over time?
These paint pens have the staying power of acrylic paint, which is nothing to sniff at. That said, how long they last will depend on the material they're used on and where they're kept. Acrylic paint is weather-resistant, but if you're planning on keeping it out in the elements, it will need sealing.




👇 Are they really good for the environment?
Yep! We're eco-friendly and toxic-free so you can be stress free when it comes to doodling with your new favourite craft supply. 




👇 Do they replace paint kits?
Not really. They're one of the thickest paint markers you can find with 3mm tips. Small enough to outline designs, large enough to colour in... but why limit yourself! Explore your creativity and use these markers with our acrylic paint set and pastel paint kit - you'll see why when scrolling through all our designs. 




👇 Can I use them before firing my clay?
Nope - make sure any creations that you want fired in a kiln are paint free, however, once you've finished firing them you can add all the details you like. We prefer to air-dry and decorate our pieces straight away.
Free Shipping Over $50

Don't you hate getting smacked by some ridiculous shipping cost when checking out? So do we, just add $50 or more worth of products to your cart and enjoy free shipping anywhere in the AUS!

NZ'ers 🥝 we do have a tiny shipping fee, but only because we want you to receive your order asap, so we opted for the fastest express shipping available! 
Zero Single-Use Plastic

You've found one of our MOST green products. We're proud to let you know that this Crockd goodie has zero single use plastic in sight (which is harder than it sounds!). Enjoy getting messy and mindful!
View full details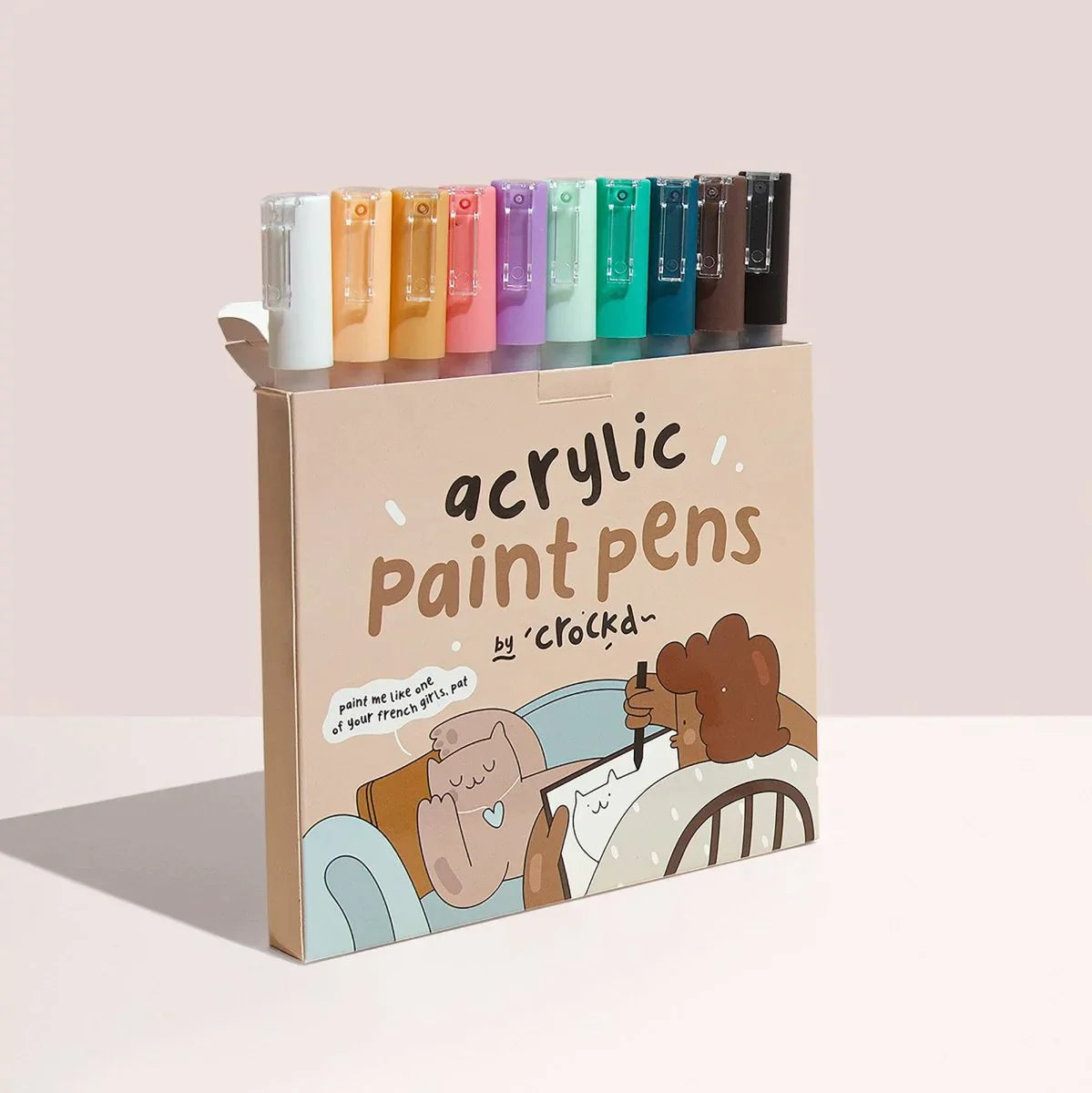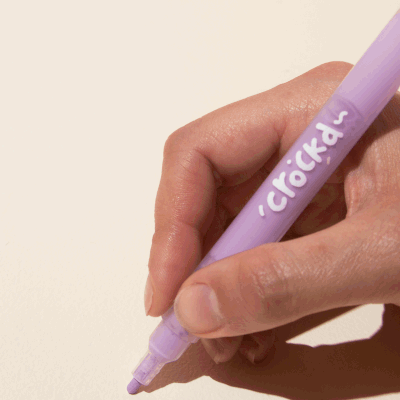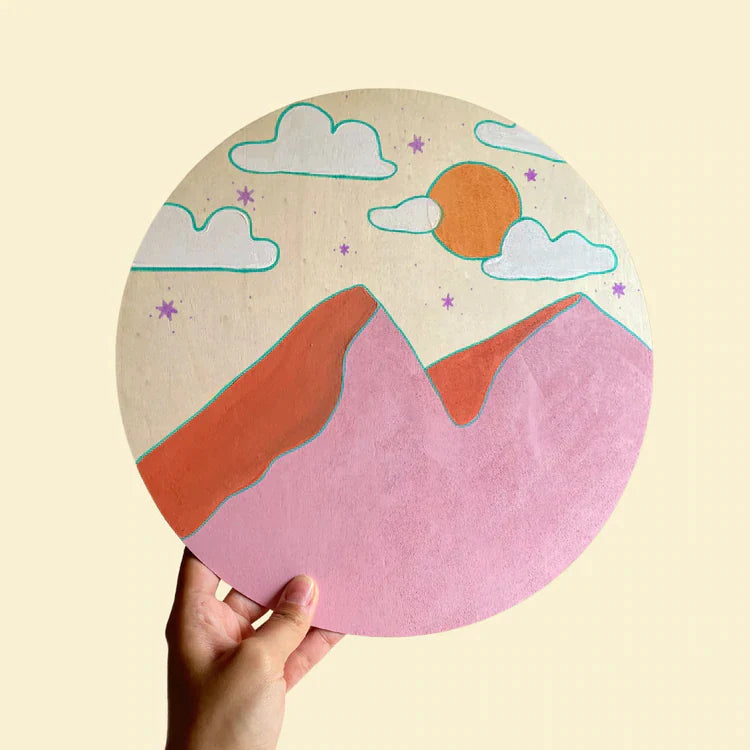 Doodle wherever you want
Paper, fabric, mirrors, planter pots, furniture and of course, finished clay creations are perfect surfaces for our acrylic paint pens.
They're super easy to use too - simply push & pump to start, then off you go doodling to your heart's content.
Colours that just go together
We've carefully curated 10 colours that you can mix and match, without fear of clashing. 
Each of the timeless, vibrant tones was picked because it goes well with the rest — making you look like a colour matching genius.
Create that speckled effect
Our acrylic paint pens are the bomb when it comes to air dried Crockd clay creations. Use them to create the 'kiln fired' speckled effect on your finished creations.
Lightly pump your pens and place on your pottery to achieve an effect every air dried clay piece always longs for.
we're on a mission to get the world out of its head and into its hands
We believe that creativity is an underrated mindfulness practice, not an innate quality or an end result — which is why our craft kits are designed to help you disconnect, reconnect and get dirty.
Eco Friendly

Hand Made

Fast Shipping

Cute Packaging