Regular price
Sale price
$63.00
Unit price
per
0% off today!
Sold out
2hr Bottomless Pottery (See More)

No need to bring a thing!

Your workshop price includes all required supplies (including bottomless drinks!)

We'll even have one of our Crockd apron's ready to go for you!
Free Cancellation / Changes*

Cancel or reschedule 24 hours before your session starts and you'll incur no fee..yay!
Choose Your Time & Date Below 👇
Love this class, but can't find a spot?

Email us or get a Gift Card
---
Booty Mugs, now that's something we can get behind... 🍑😉
Includes Free Bottomless Margaritas

Does taking an a$$ to the face every time your sip your morning coffee appeal to you? Great, this workshop is totally for YOU... and your besties.

You'll be welcomed with a delicious margarita (and then more) and some funky beats to get you 'in the mooood. 
During the 2 hour workshop, you'll learn the fundamentals of hand-building pottery using the pinch pot technique and will be guided by one of our expert potters to learn how to sculpt and shape that mug into a juicy human form.
This workshop also includes the firing and glazing of your masterpiece in our hot AF kiln. ❤️‍🔥
All Inclusive - 2 Hour Workshop

No need to bring a thing! Your workshop price includes all required supplies. We'll even have one of our Crockd apron's ready to go for you!
Free Firing & DIY Glazing

Once your work has been left to dry for 2 weeks, we pop it in our kiln for its first fire! 🔥

This is called a bisque fire, and happens at 1000 degrees. This process takes 24 hours!

Once your work has cooled back down we'll contact you to come into the studio and glaze it. 💃

You will have access to all our beautiful colours to help bring it to life! All included in your ticket price.

Then, we will pop your work back into our kiln to 'set' the glaze and make it waterproof and foodsafe.

Good things take time eh!

Psst, this is all optional! You're also welcome to take your work home and air dry it if you prefer.
Getting Here - Neutral Bay, Sydney

We are SO excited to welcome you to our brand spankin' new studio.

Crockd Studios is located at

81-91 Military Road, Neutral Bay, Sydney.


We're the corner shop that's directly opposite The Oaks (kick ons anybody? 😉)

Street parking is available, but, we're superrrr close to major bus stops, so getting here via public transport is easy peasy.
18+ Only (except for Sundays!)

Soz kiddies, this is an immersive art studio designed for the adults on Monday-Friday nights.

All ages are welcome to our Sunday workshops though!
FAQs

👉 Is it beginner friendly
Totally! We're here to get out of our heads and into our hands. We'll help you turn that big ol' lump of muddy clay into a spectacular masterpiece you'll be proud to call your own.

👉I'm a bit picky with drinks, can I bring my own?
Certainly! We're BYO licensed so feel free to bring your own, you're not limited to drinking what we have on offer.

👉I don't drink, do you have non-alcoholic beverages?
Of course! We cater for everyone and have a range of non-alcholic cocktails/mixers available. You're always welcome to bring your own incase you need a quick shot of redbull after a work day.

👉What do I wear?
Something you're comfortable in and ideally you wouldn't care if it got a bit of mud on it. We have fresh apron to keep everything relatively clean!

👉What's the vibe like?
The best gosh darn pottery studio in Sydney that you'll experience. Our 200+ 5-star reviews on Google, will back that up!

👉When do we pickup fired pieces?
Your pottery class host will explain all the deets at the end of the class, roughly its 6-8 weeks for glazing/firing.

👉Do you really mean bottomless drinks?
Yeh, we do! Just remember responsible drinking friends.

👉Can my 16-17y/o join?
Soz kiddies, come back when you're 18+. This is a creative space for adults to enjoy.
View full details
get out of your head, and into your hands
We believe that creativity is an underrated mindfulness practice, not an innate quality or an end result — which is why our experiences are designed to help you disconnect, reconnect and get dirty.
hands on & mess free
Our unique hand building pottery classes guide you to create your very own masterpiece, whether it's a slab vase, booty mugs, a decorative figure sculpture, or anything you can imagine really.
Crockd Studios hand-building pottery workshops are designed to be hands-on, but mess free. So - come dressed in your best and take advantage of an insta-worthy experience.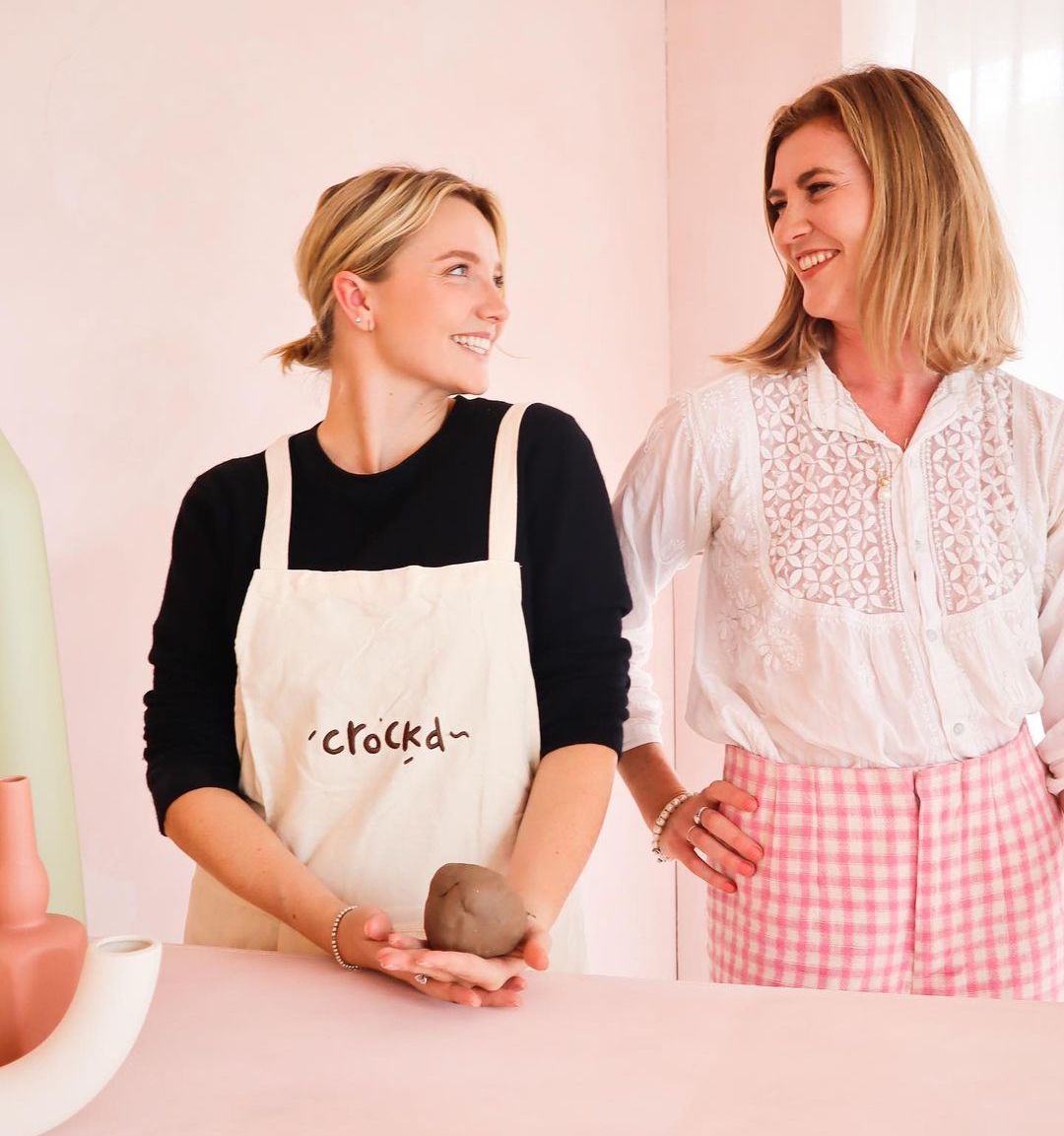 Patience, purpose and a sense of humour
Not a workshop goes by where our fabulous instructors aren't invited to a post-pottery dinner or drinks...
Our expert ceramic instructors are ready to top up your glasses and teach you a variety of techniques to shape and texture your clay, such as pinching, coiling, slab-building, and carving.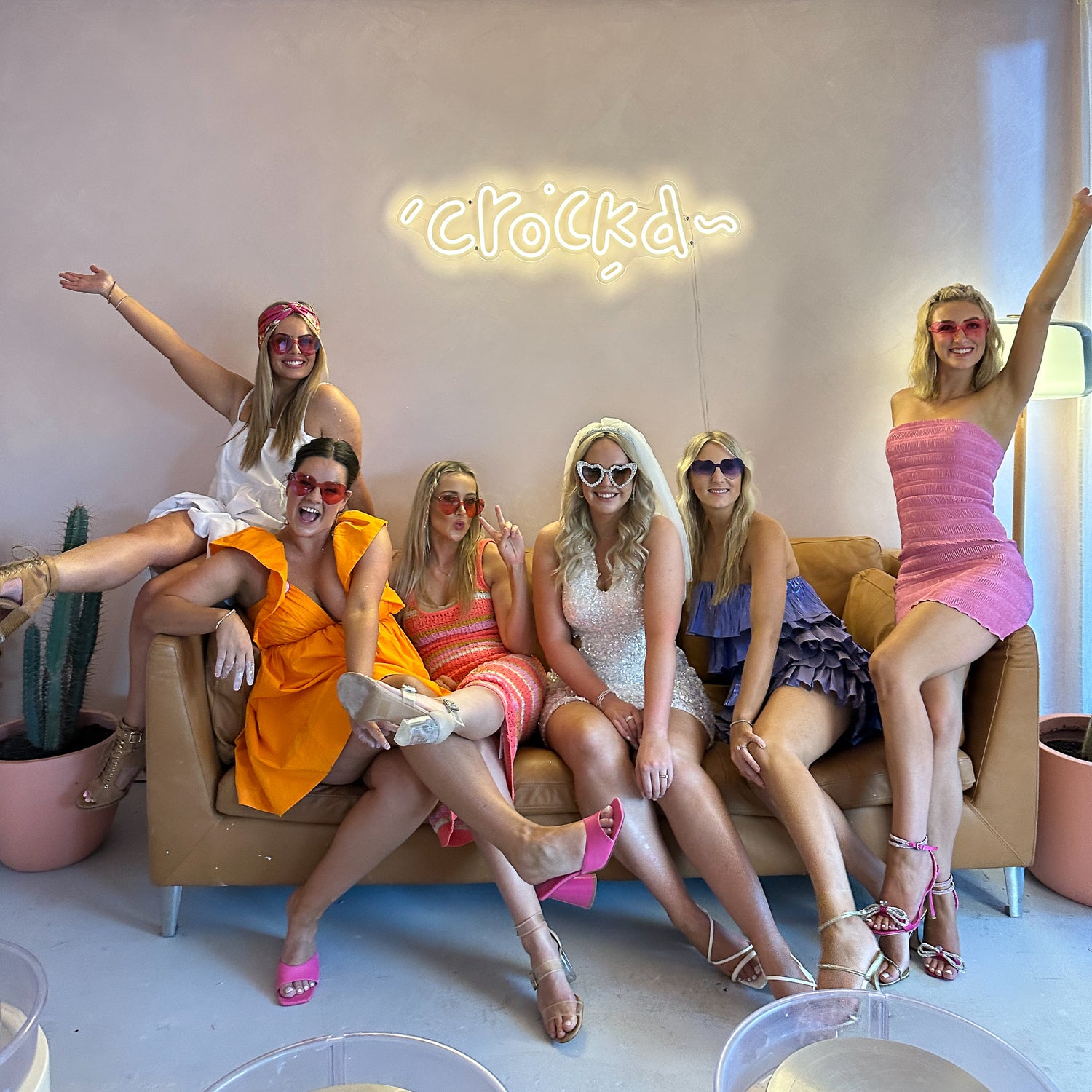 Clay & Sip your worries away
With a glass in one hand and a ball of clay in the other, you'll enter a state of maxo-relaxo.
Our laid-back and social atmosphere gives you space to chat, laugh, and enjoy the night away while exploring your creativity.
Whether you're by yourself or bringing some mates, our classes are perfect for everyone looking to unwind and have a good time.