For 1-2 People + Tutorial Library
Regular price
$236.00
Sale price
$184.00
Unit price
per
22% off today!
Sold out
This Chunky Knit Throw kit is the ultimate addition to your home. While this may take more time to complete, this quick-to-learn pattern is designed for people who know nothin' bout knittin'.
It comes with: 
✔ 120m of super soft pure 100% Cotton Chunky Thread
✔ Custom printed guides to learn the basics
✔ Exclusive access step-by-step video tutorials
✔ Beautiful look-book for some serious inspo

All wrapped in a gorgeous gift box, and the chance to leave a digital gift message so you don't need to do a thing!
What's Included

Chunky Knit Starter Kit
Includes 2 Large Balls + Access to the Full Tutorial Library

✔ 2x super soft 100% Cotton Chunky Thread balls (40m)
✔ 4x different creations to choose from
✔ Printed guides to learn the arm yarn basics
✔ Exclusive access step-by-step video tutorials to all creations
✔ Beautiful look-book for serious inspo to style your chunky thread

All packed in a gorgeous gift box, and the chance to leave a gift message so you don't need to do a thing!
Care Instructions

Machine Washable & Pet Friendly

She might be soft, but damn she's hardy!

Keep your chunky feelin' fresh by unravelling and chucking her into the washing machine whenever she needs good ol' cleaning.
Materials

100% Pure Cotton Chunky

This kit comes with the exact amount of yarn needed to bring your creation to life.

Chunky Thread is a super duper, oversized yarn that is made up of two parts:

Outside it's a premium stretchy 100% cotton casing that holds all the good stuff.
Inside it's stuffed with stretched out pillowy 100% Cotton fibres that make it insaneeeeely soft.
FAQs

👉 How much length is the yarn?

These are BIG BOIS. Each chunky thread ball is 20m of Yarn (makes 1 Chunky Cushion). You get 2x 20m chunky thread balls in each kit allowing you to choose what you want to make.

👉 Can you connect more yarn together?

Yurp! For bigger projects such as pet beds, you'l need to join two Chunky Thread balls together. Just a regular knot tho! Nothing fancy pancy. You can connect an infinite amount and smother yourself in the biggest weighted blanket if ya feel like it.

👉 Is this safe to machine wash?

YESSSS! You can stick her in the washing machine all day erry day.

Note that it does take a lil' bit for it to dry though - and we don't recommend the dryer!

👉 But, what if I suck?

If you don't suck the first time you try this plz get in touch for a full-time job, k?

But SRS, the best dang thing about Chunky Thread is that you can unravel it and begin again, and again, and again.
View full details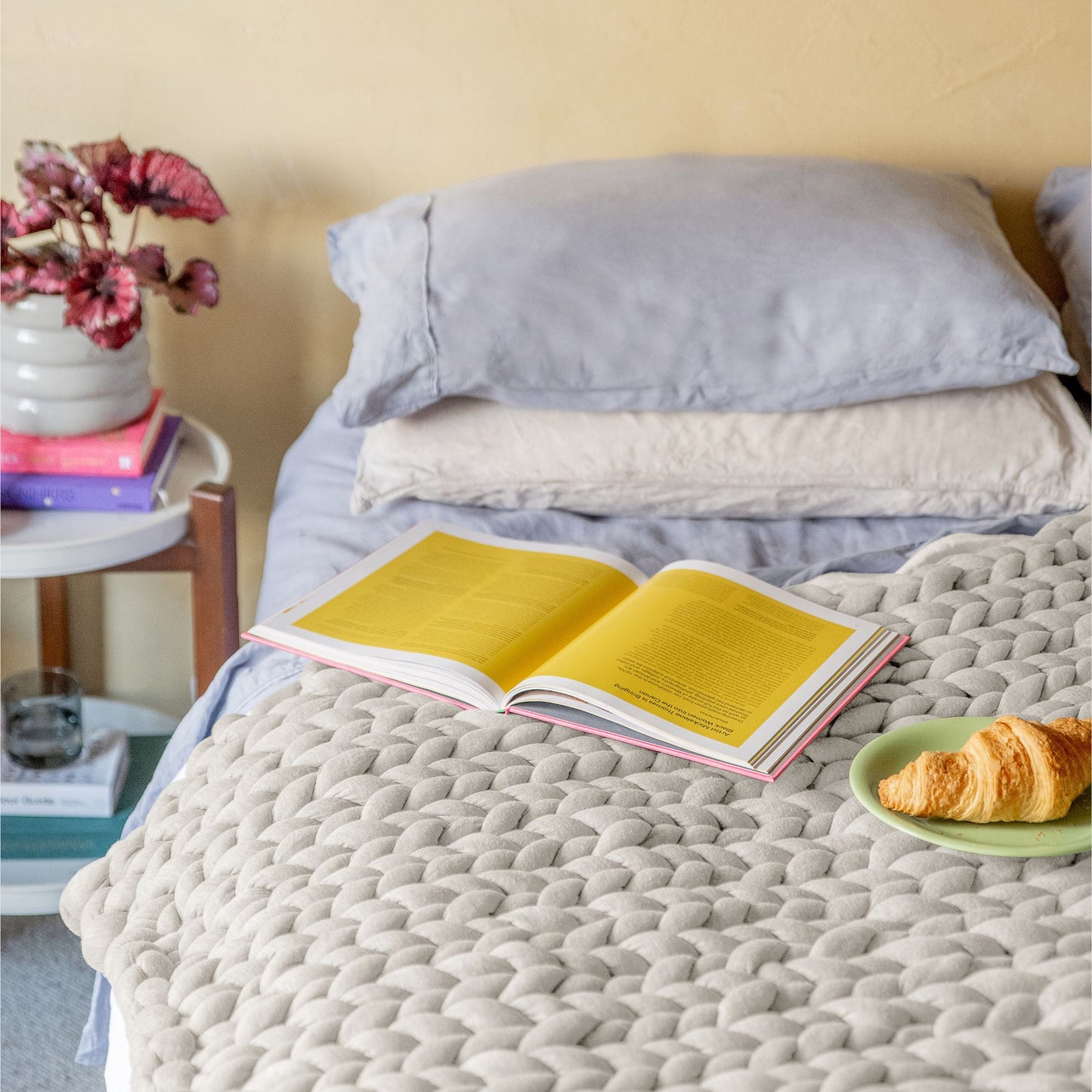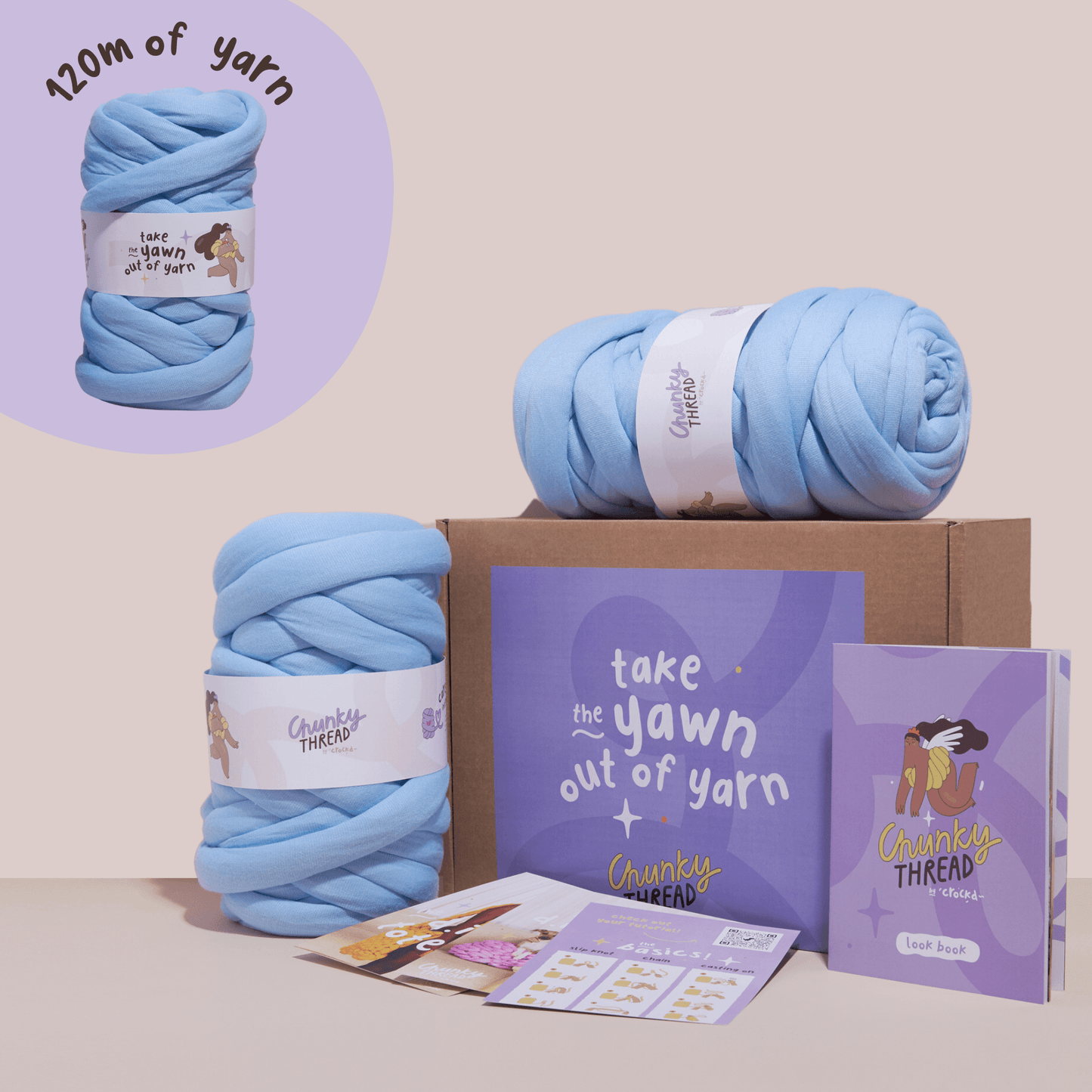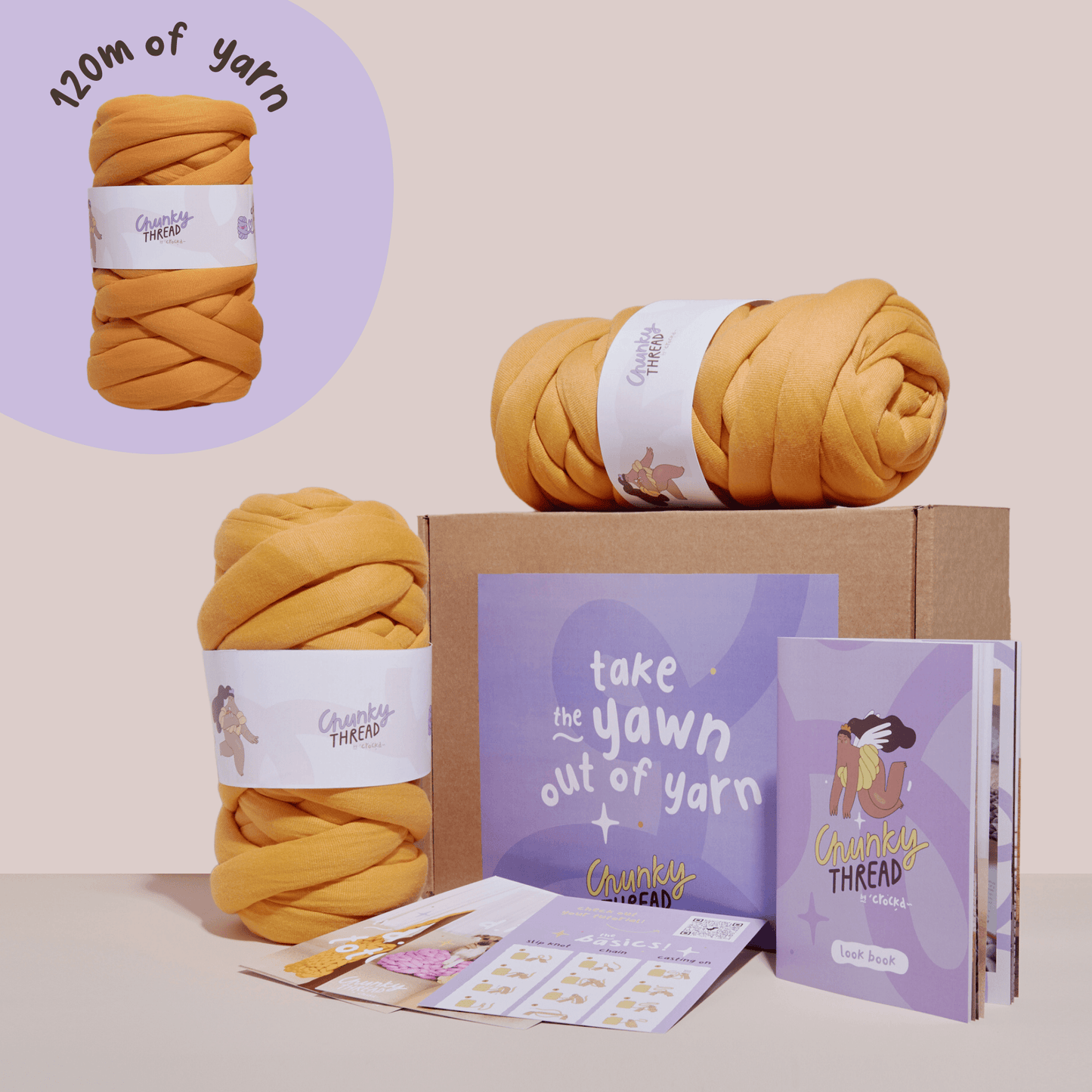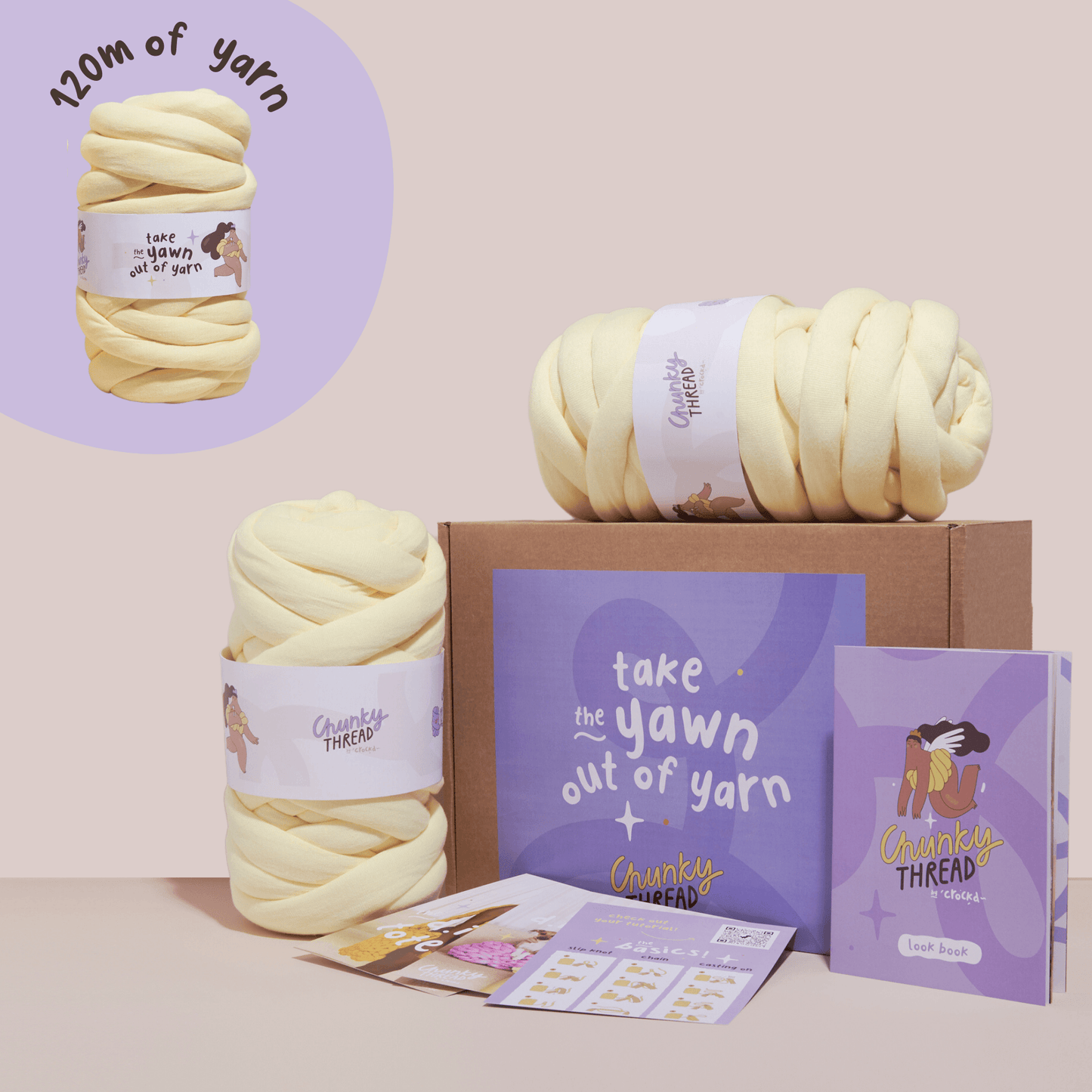 So soft, so simple
Get out of your head and into your hands with the most satisfying creative experience yet.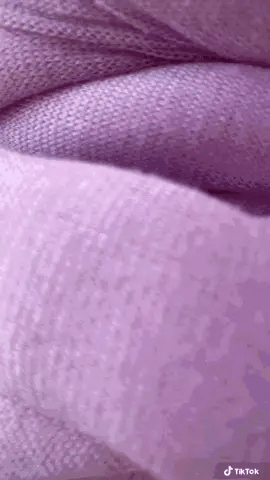 built for beginners
She's simple, she's cute and she's built for total noobs.

The Chunky Knit Starter Kit includes step-by-step instructions, and exclusive access to our comprehensive video tutorial library.
designed to be shared
Your new social fabric has entered the chat. But for real, the Chunky Knit Starter Kit is designed to be a shared, social experience. With two 20m balls of plush Thread, you'll be in a state of wholesome, hilarious and mindful bliss.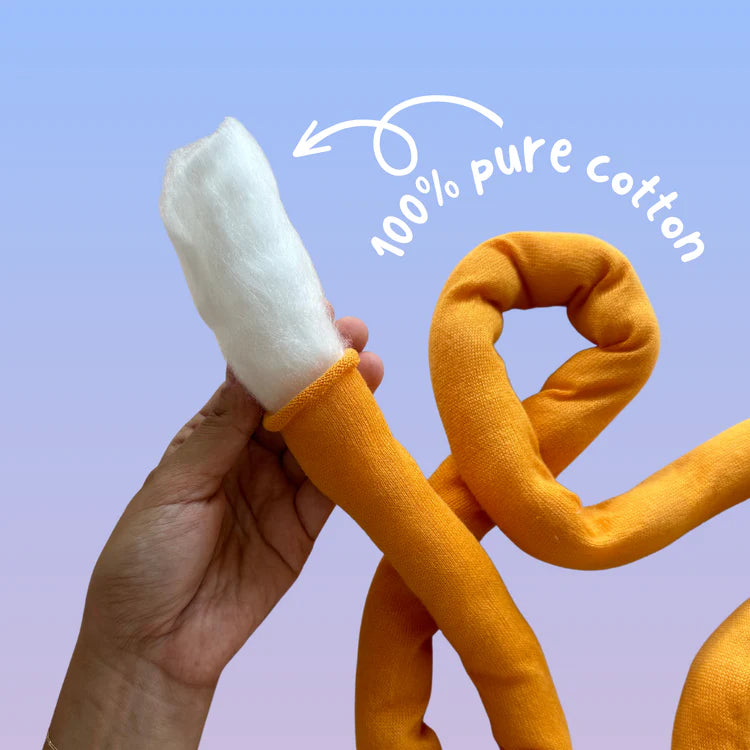 made to last
We created the Chunky Thread to literally become 'part of the furniture!' Made with premium hypoallergenic cotton and a sturdy, stretchy casing, it's perfect for creating cozy pieces for your pet, sofa, plants, bed, floor, or your own fits.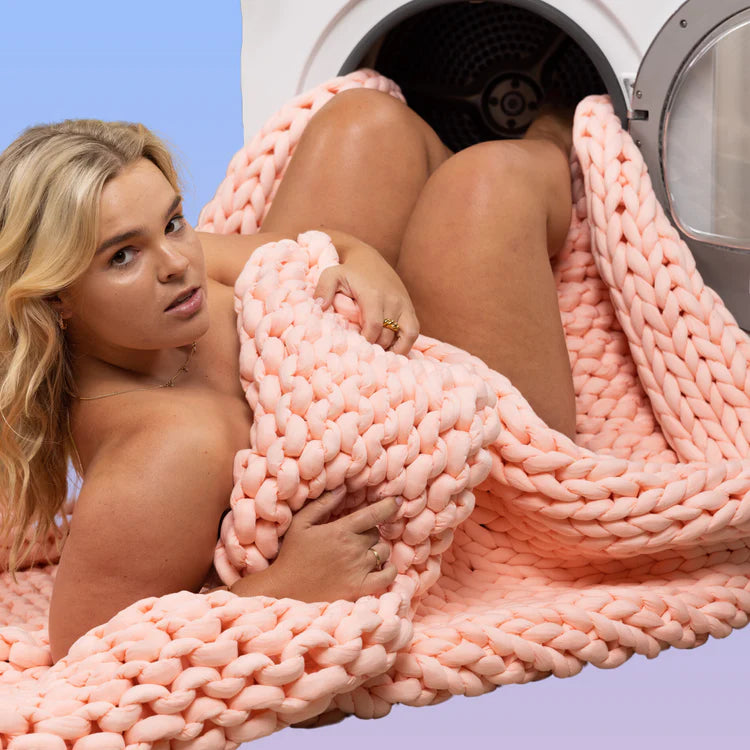 machine washable
No need to worry about pet hair or funky smells, cause' this chunky gal can be washed and tossed in any household cleanin' machine.
Take the yawn out of yarn
Sneak peak your tutorial library👇
Created by Crockd 💛
Chunky Thread is our brand new thicc, fluffy baby that's helping us get closer to our mission of getting the world out of its head and into its hands, through a different kinda craft!