Regular price
Sale price
$40.00
Unit price
per
0% off today!
Sold out
🚚 Free shipping over $50
✈️ Express shipping available (AU/NZ)
---
Stock up on 2 bags of our delicious Crockd Hybrid Air Dry x Ceramic clay.
2 x Bags of Crockd Hybrid Clay

Keep on creating those air dried or fired masterpieces with two more bags of the Crockd good stuff!

This is 100% eco-friendly, locally sourced ceramic and air dry clay refills (yep, it's our own specifically designed hybrid). If you've already got all the tools, the instruction booklet, and know what you're doing - then top up, and let's keep this party going!

And yes, you read that right - this pack includes 2 x full bags of clay.
Make 2-4 creations per person

How much clay is included you ask? Well this is the same amount as what you're getting in our original Crockd Pottery Kits. It's two bags with approximately 1.5kg in total. This is enough to make a total of 2-4 creations per person. No tools, no instructions, just the good ol' moist stuff.
Air Dry or Fire in a Kiln

👇 Is this air dry or ceramic clay?
It's both! Ahhhmazing right? Our specifically engineered hybrid formula means that Crockd Clay can be left to air dry or taken to your local kiln to become ceramic. So fancy! So fuss-free!

👇 Do I need to cut the clay?
No way, Jose. We do all the tough work into cutting the clay into the right sizes for you unlike all of our "friends" who promise big ol lumps of clay but make it super hard for you to organise and cut the right amounts to know what to work with. Keep it stress-free and let Crockd do the damn thing so you can focus on creating.

👇 How do I store unused clay for later?
This is another great thing about Crockd clay. Say you wanted to use half your block from one bag to make a few pieces and leave the leftover clay for a rainy day. Well we provide you with reusable sealed bags to help you with that! They keep the clay nice and moist for another use. Save yourself and the environment from wrapping in damp cloths or extra plastic wrap and get some Crockd clay bag refills. 

👇 Should I just buy the clay bags first instead of the Pottery Kit?
Great question! We always recommend starting with our original Crockd Pottery Kit so everyone has the same unboxing experience, their own clay, tools, booklets and cards. However, if you're a family with a few extra people or you've already purchased the kit and looking for a top-up then this is the product to add to your cart.
Free Shipping Over $50

Don't you hate getting smacked by some ridiculous shipping cost when checking out? So do we, just add $50 or more worth of products to your cart and enjoy free shipping anywhere in the AUS!

NZ'ers 🥝 we do have a tiny shipping fee, but only because we want you to receive your order asap, so we opted for the fastest express shipping available! 
Zero Single-Use Plastic

Crockd's mission is simple - to get the world out of its heads and into its hands. In saying that we're aware of the effects on the environment and commit to having sustainably sourced product and zero single-use plastic in our kit creations. Go on - get messy, get mindful!
View full details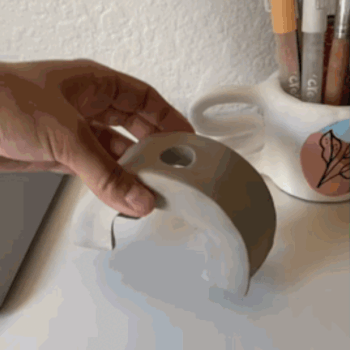 we're on a mission to get the world out of its head and into its hands
We believe that creativity is an underrated mindfulness practice, not an innate quality or an end result — which is why our craft kits are designed to help you disconnect, reconnect and get dirty.
Eco Friendly

Hand Made

Fast Shipping

Reusable Packaging