Regular price
Sale price
$20.00
Unit price
per
0% off today!
Sold out
🚚 Free shipping over $50
✈️ Express shipping available (AU/NZ)
---
"How are you a different mother to your mother?" - Oooooooft! You're definitely going to find out with this meaningful conversation card game.
Shuffle these 30 question convo cards in the deck and make sure you've got an adults only audience at the dinner table, because mum's about to spill the tea and tell the truth. There's one caveat - so do you!

30 'Mama' Themed Convo Cards for Adults

These Spicy Conversation Cards for adults are designed to level up your crafternoons with our pottery kits from our original claybreakers but can be just as fun without getting your hands all messy.  

The 30 conversation cards cover a broad spectrum of topics that you're going to be gasping about when mum has to tell-all on topics including intimacy, love, mental health and relationships.

But don't stress! We've included a 'chilli-meter' so you can choose your level of spice (discomfort) 🌶🌶🌶.  Just BYO Mama, pick a card and take turns answering.

Feeling courageous? We dare you to bring the whole family or ask your mama in-law!
What's Included in These Spicy Cards?

It's quite simple - you get 30 spicy question cards designed for a two-way conversation with you and your mama.

There's so much value in reflection and looking into the future so there's absolutely no way you'll walk out of here understanding less about each other.

Crockd was built on meaningful conversations - these cards do just that by facilitating deeper conversations that just don't normally come to mind when spending time.
Simple, Deep & Spicy Questions

👇 How controversial are these questions?
Look, we never wanna censor your conversations. So we have carefully curated a broad selection of questions.Some are simple, some are layered, and some include topics such as s3x. #awkward. Use the chilli-meter as your guide!

👇 When and how do I use these?
Obvs we think it's best to whip these out when you're crafting with Crockd... but they really can be the perfect edition to a dinner date, cocktail night and any other family get togethers.

👇 Can you go through all the conversation cards in one sitting?
When you were a kid did you ever see one person do a whole round of "Who wants to be a Millionaire" and win inside 1 episode? I doubt it, but if you've got a whole night planned it's possible! We prefer you use this as a chance to book a few fun evenings or dinner parties to have some serious adult convos.
Free Shipping Over $50

Don't you hate getting smacked by some ridiculous shipping cost when checking out? So do we, just add $50 or more worth of products to your cart and enjoy free shipping anywhere in the AUS!

NZ'ers 🥝 we do have a tiny shipping fee, but only because we want you to receive your order asap, so we opted for the fastest express shipping available! 
Zero Single-Use Plastic

So why can't Crockd declare Single-Use Plastic Free? Great question...

Here's the thing: there's a good reason why clay is always wrapped in plastic. Once it's dug up, keeping it usable is a challenge especially if you're not using it right away. Our clay bricks used to be plastic-free, but, this actually ended up contributing to more waste as the clay would expire faster... 

So now, our eco-conscious approach is to wrap the clay in a single protective plastic sheet within a resealable pouch so that your clay can last a very loooooooooong time.

Until the eco-gods produce a bio-degradable long lasting plastic, we'll continue to do our bit by shipping all our kits carbon neutral. ✌️

 
View full details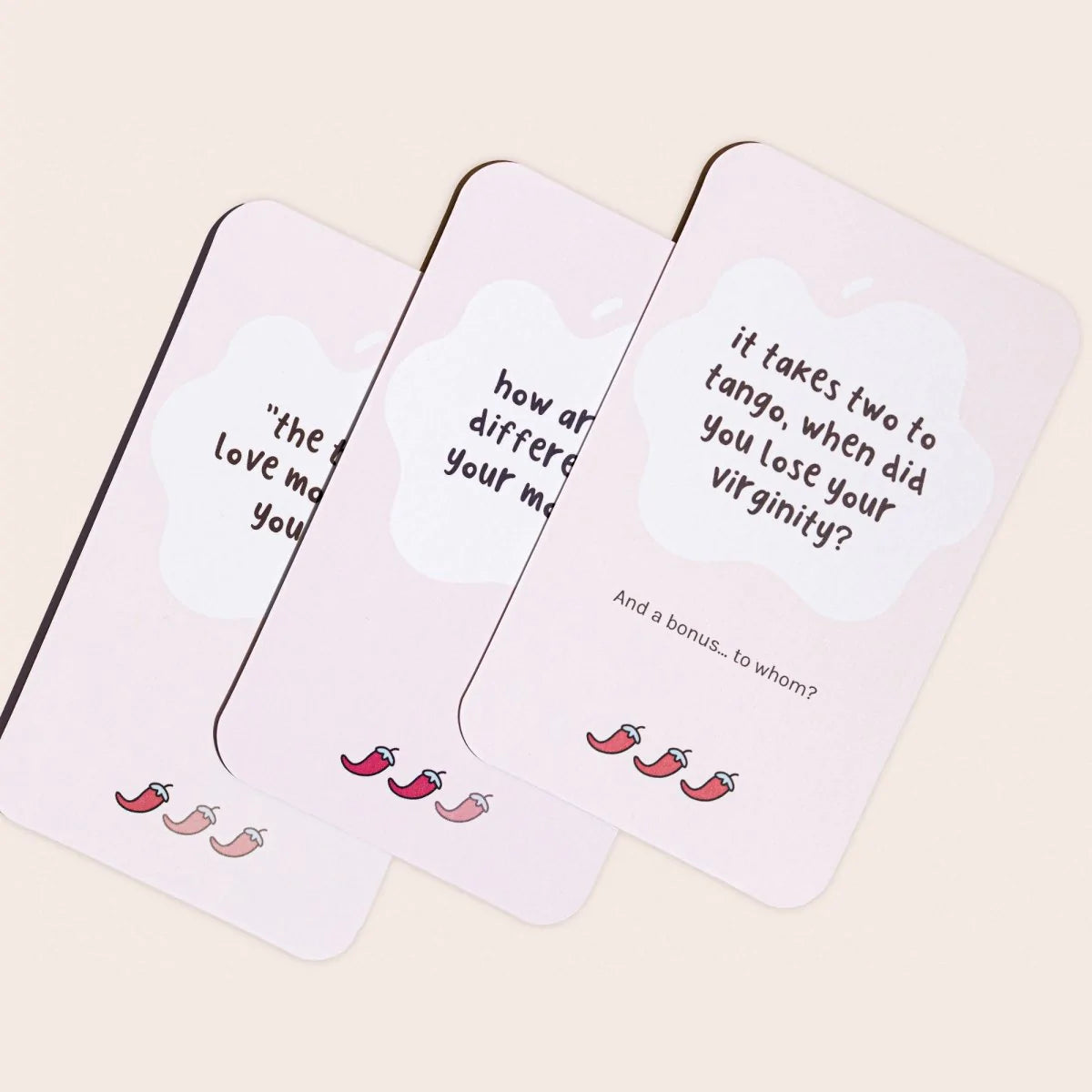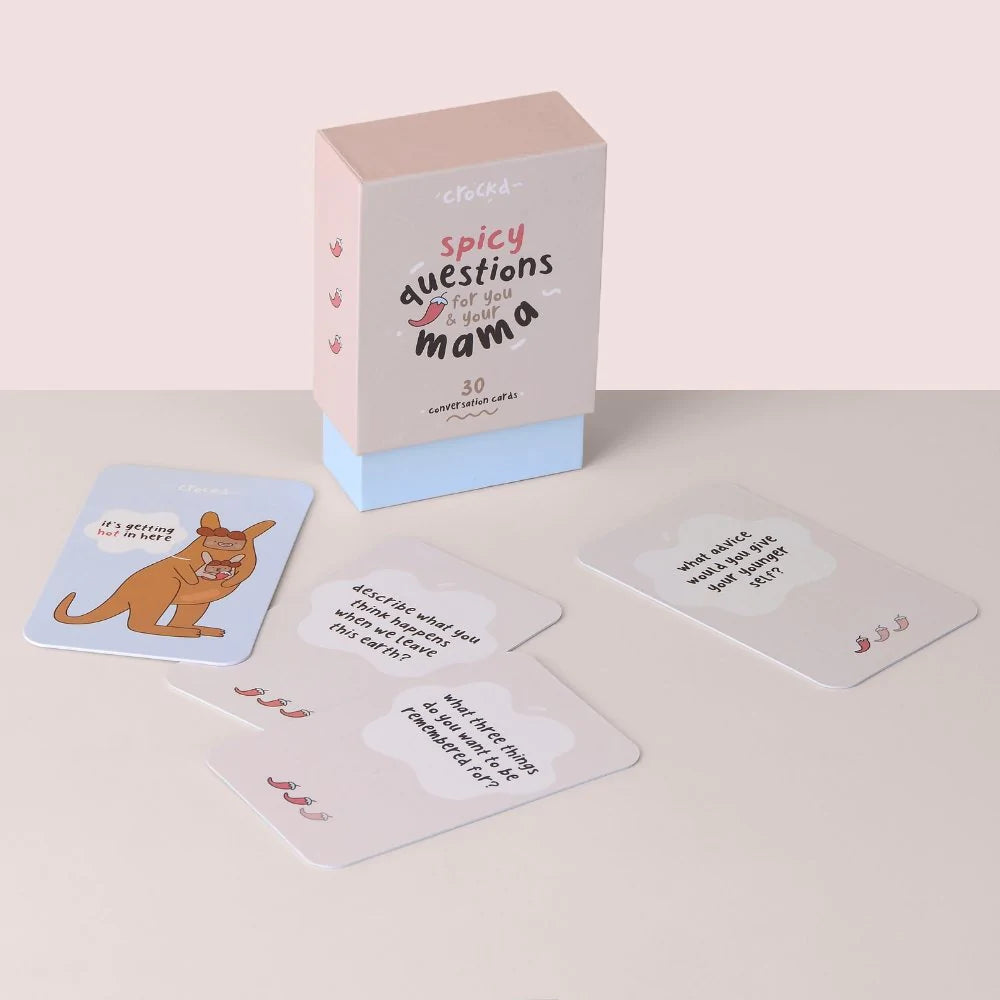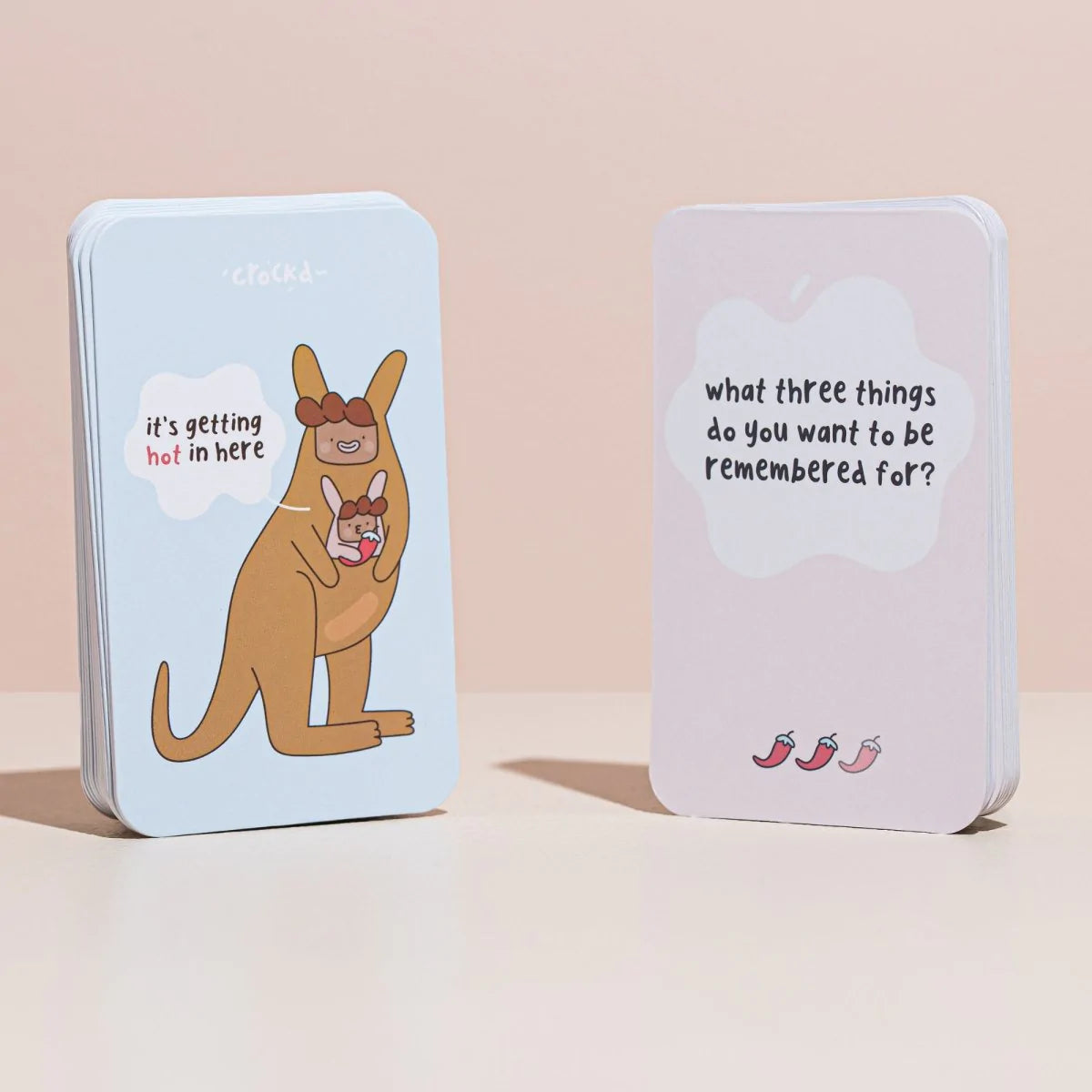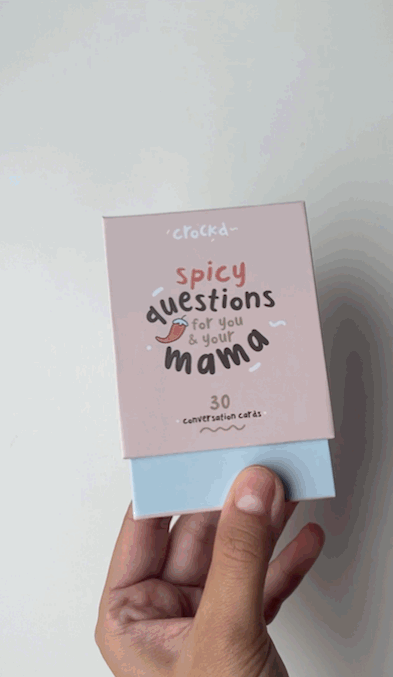 Building Connections One Card At A Time
Crockd has been 'crafting the conversation' for yonks now, and we're finally levelling up our convo game. These conversation cards for adults are designed for a two way conversation with you and your mama. 
Open the deck of conversation cards, use the spice metre to determine your level of heat 🔥 and pick the card that's right for the moment.
Therapy or Just a Cracker Conversation?
I know what you're thinking - maybe these conversation cards are too deep. But what is deep if you haven't scratched the surface? Therapy has it's place, these conversation cards for adults are designed for you to have a cracker conversation that will create some great memories and hopefully some outrageous stories.

If you're looking to learn from one another and have a shared experience, this is your chance!
we're on a mission to get the world out of its head and into its hands
We believe that creativity is an underrated mindfulness practice, not an innate quality or an end result — which is why our craft kits are designed to help you disconnect, reconnect and get dirty.
Eco Friendly

Hand Made

Fast Shipping

Cute Packaging