Regular price
$400.00
Sale price
$360.00
Unit price
per
10% off today!
Sold out
Love this class, but can't find a spot? Email us
---
4 Week Wheel Throwing Course - Monday Nights
You asked, and we listened! Welcome to the much-awaited 4-week wheel throwing course at Crockd Studios, Neutral Bay. 
This course is designed for total
beginners

- so don't fret if you've never ever laid eyes on a pottery wheel before. 


7 Day Free Cancellation / Changes*

Cancel or reschedule 7 days before your course starts and you'll incur no fee..yay!
See Course Programme

In this workshop you will learn: 

Week 1 & 2  👉 Wedgies & Wheelies

Learn to wedge and prep your clay using the 'rams horn' technique 
Learn to drive a wheel with correct posture, hand positions, and speed dials
Learn to throw and centre your clay using the coning method, opening up walls, shaping your pieces, and vessel removal.



Week 3 👉 Trimming & Turning 

Learn to carve and trim your 'leather hard' vessels and create a foot
Learn to make handles and how to attach them
Learn to add texture to leather hard pieces

Week 4   👉 Underglazes & Kiln Blazes

Learn to use and apply underglazes, to create colour and unique patterns
Learn glaze application techniques like 'brush-on', 'dip glazing' and 'pour over'
Learn to kiln firing understanding cone temps and kiln loading

The Details:

Monday nights @ 6.30 pm
Crockd Studios, Neutral Bay 
Intimate class of 9 

Price Includes:

Tools & Clay
Equipment & Glazes
Firing
The best dang wheel instructors ever.
Make-Up Classes for Missed Dates

Need to miss Week 1 or Week 2 of your course?

No fret! You can add this time before your next class to ensure you don't fall behind.

Note, this can only work in Week 1 or 2 as the structure is the same.

Email us at hi@crockd.com if you need to miss either one of these weeks.
Getting Here - Neutral Bay, Sydney

We are SO excited to welcome you to our brand spankin' new studio.

Crockd Studios is located at

81-91 Military Road, Neutral Bay, Sydney.


We're the corner shop that's directly opposite The Oaks (kick ons anybody? 😉)

Street parking is available, but, we're superrrr close to major bus stops, so getting here via public transport is easy peasy.
18+ Only

Soz kiddies, this is an immersive art studio designed for the adults.

Man child still welcome tho..
FAQs

👉 Is it beginner friendly?
Totally! We're here to get out of our heads and into our hands. We'll help you turn that big ol' lump of muddy clay into a spectacular masterpiece you'll be proud to call your own.

👉I'm a bit picky with drinks, can I bring my own?
Certainly! We're BYO licensed so feel free to bring your own, you're not limited to drinking what we have on offer.

👉I don't drink, do you have non-alcoholic beverages?
Of course! We cater for everyone and have a range of non-alcholic cocktails/mixers available. You're always welcome to bring your own incase you need a quick shot of redbull after a work day.

👉What do I wear?
Something you're comfortable in and ideally you wouldn't care if it got a bit of mud on it. We have fresh apron to keep everything relatively clean!

👉What's the vibe like?
The best gosh darn pottery studio in Sydney that you'll experience. Our 200+ 5-star reviews on Google, will back that up!

👉When do we pickup fired pieces?
Your pottery class host will explain all the deets at the end of the class, roughly its 6-8 weeks for glazing/firing.

👉Do you really mean bottomless drinks?
Yeh, we do! Just remember responsible drinking friends.

👉Can my 16-17y/o join?
Soz kiddies, come back when you're 18+. This is a creative space for adults to enjoy.
View full details
get out of your head, and into your hands
We believe that creativity is an underrated mindfulness practice, not an innate quality or an end result — which is why our experiences are designed to help you disconnect, reconnect and get dirty.
Wheeling & Dealing for All Levels
Yup, our wheel throwing classes are seriously designed for everyone. Whether your at a Patrick Swayze or Gumby level, our teachers can quickly adapt and coach you to reach your full potential.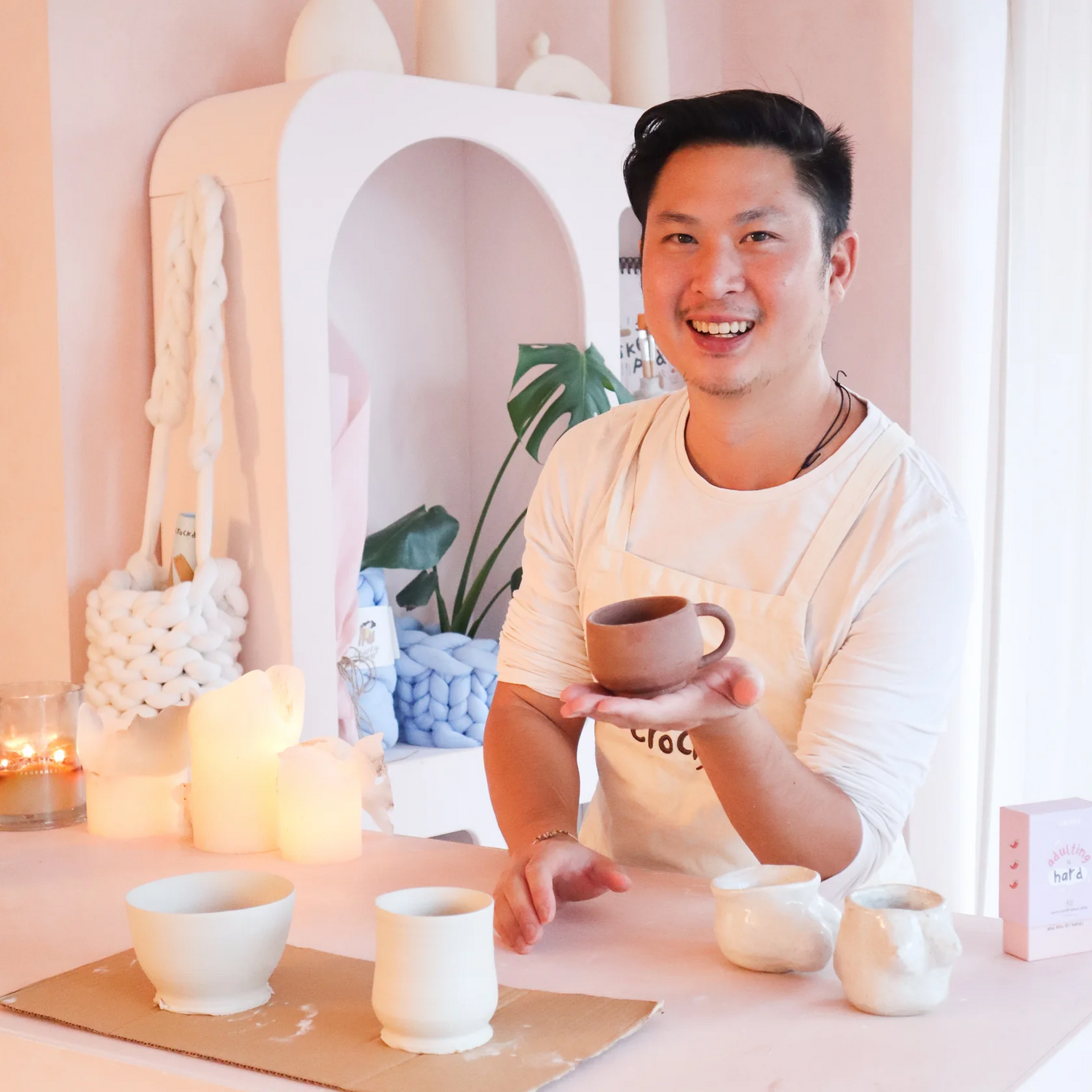 Led by Local Legends
We're obsessed with learning from the best! Our wheel classes are led by local legends who have mastered the art of wheel throwing (not some awkies ghost).
They'll share their secrets and provide personalised feedback to perfect your posture, hand placement, and breathing so you can find your rhythm on the wheel. It's the perfect way to learn the ins and outs of wheel throwing.
Small Classes, Big Energy!
Our classes may be small, but you can expect big energy. With a maximum of 10 wheels per class, you'll have plenty of one-on-one time with our instructors.
You'll love the vibe and enjoy the chance to bond with others in our studio while creating beautiful pieces. So come join us for some wheel throwing fun!
Other workshops coming up 👇