Regular price
Sale price
$20.00
Unit price
per
0% off today!
Sold out
🚚 Free shipping over $50
✈️ Express shipping available (AU/NZ)
---
Level up your craft game with our acrylic paint set (basic edition). This set comes with everything you need to paint, decorate, and seal your creations all in one sitting - no kilns required! It's perfect for a beginner to the intermediate painter but also versatile enough to fulfill any of your creative visions in brilliant colours.
✔️ 10 Toxic Free & Quick Drying Acrylic Paint & Sealant Tubes 
✔️ 3 Premium Artist Quality Brushes (small, medium & large)
Feeling really creative?
Pair with our Pastel Paint Set, Paint Pens and Mess Mat for the perfect crafternoon you'll be proud to show off on your socials! 
Smooth & Highly Pigmented Paints

Designed to be multi-purpose and long-lasting, you'll be using these acrylic paints on all your Crockd goods. From pottery, to planters, to wood, and even glass. Everything you can see and touch can achieve a glow-up with this amazing acrylic paint set.

Our set features highly pigmented colours that boast a large spread across different types of surfaces. There are a selection of pre-mixed ready to use coloured acrylic paints, but in our experience, once you get into your flow you'll find yourself experimenting with colour mixing to create unique colours and infinite palette variations with the extra black and white tubes that aren't found in normal paint kits. 
What's In This Acrylic Paint Set?

This acrylic paint kit comes with:
✔️ 6x Coloured acrylic paint tubes
✔️ 2x White acrylic paint tubes
✔️ 1x Black acrylic paint tube
✔️ 1x Clear sealant tube
✔️ 3x Premium flat edge brushes (small, medium & large)

The set itself has easy to pack tube inserts inside the carry box and is compact enough to travel with if you're feeling a little bit creative outside of the house.
Paint on Pottery, Mirrors & More

👇 Do I still need to take my pottery to a kiln?
Nope! This acrylic paint kit enables you to experience decorating air dry pottery completely from home, no kiln required. Just let your clay creations air dry for the recommended time and then paint, decorate, and seal your creations to your heart's content - all in one sitting.

Be mindful that if you do want to fire & glaze your clay creations you'll need to make sure there's no acrylic paint on them as they can't go into a kiln. 

👇 Why use acrylic instead of oil paints?
It's a great question, here's 3 quick reasons why water based acrylic paint just makes more sense than oil paint. Firstly, it spreads longer and the drying time is way faster. Secondly, it keeps your brushes in good nick for longer. Lastly, cleaning up is a breeze if it spills on anything other than your creation.

👇 Will this make my pottery waterproof?
The short answer is no - it won't. Our sealants included in this paint kit will make your creations water resistant, but not completely waterproof or food safe. If you wish to make something that needs to hold water, such as a flower vase, we recommend getting your piece fired at a local kiln. Or if you're like us - just choose dried flowers instead!

👇 What's the size of the paint tubes?
The acrylic paint tubes and sealant tube inside the kit are 22ml each. This is a generous size that will allow you to decorate multiple ceramic creations or both pots inside your Paint n' Pot kits.

👇 Can I use these on other mediums?
Indeedily doodily you can! These paints are highly pigmented, professional grade paint. In other words - they're epic for painting pottery, painting planters, painting mirrors, painting furniture, literally anything. You think it, they can paint it.
Free Shipping Over $50

Don't you hate getting smacked by some ridiculous shipping cost when checking out? So do we, just add $50 or more worth of products to your cart and enjoy free shipping anywhere in the AUS!

NZ'ers 🥝 we do have a tiny shipping fee, but only because we want you to receive your order asap, so we opted for the fastest express shipping available! 
Zero Single-Use Plastic

You've found one of our MOST green products. We're proud to let you know that this Crockd goodie has zero single use plastic in sight (which is harder than it sounds!). Enjoy getting messy and mindful!
View full details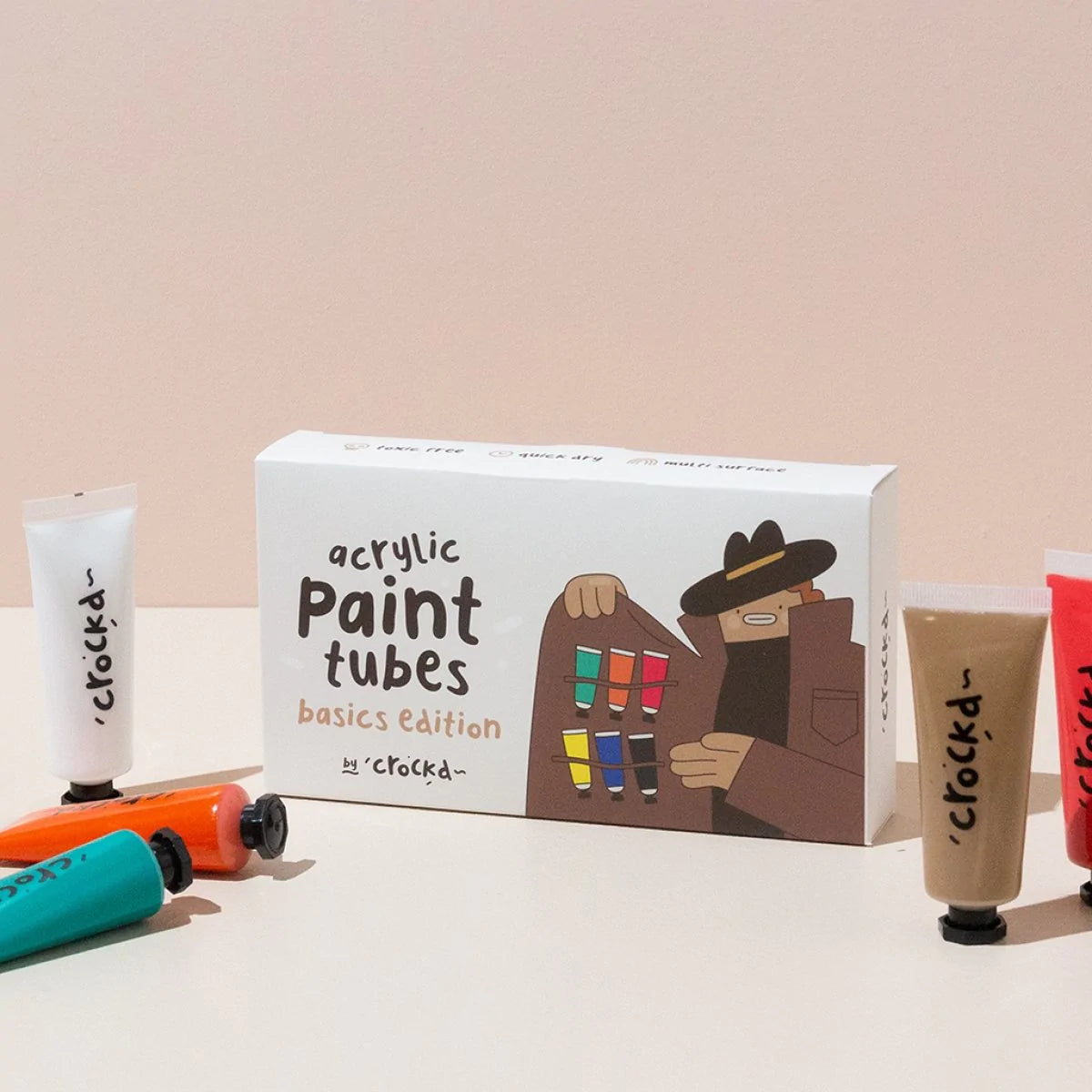 Paint That's Thick, Smooth & Fast Drying
You don't suck at painting - your paints just suck. The difference that you'll find with our Crockd acrylic paint set is that it comes with 9 of the thickest, smoothest and creamiest paints in the world. You'll feel like you're painting better than Picasso with paint this good, plus with 22ml per tube you've got plenty to decorate multiple creations. 
Oh and if we didn't mention it enough already - these acrylic paints are fast drying, so layer it up friend!
Brushes That Artist Dream of
We've complemented these acrylic paints with 3 different sizes of premium flat nylon brushes. Any experienced painter will have these artist quality brushes inside their basic painting kits and you'll be amazed how easy the paint mixes and applies to your creations that you'll be painting absolutely every-thang.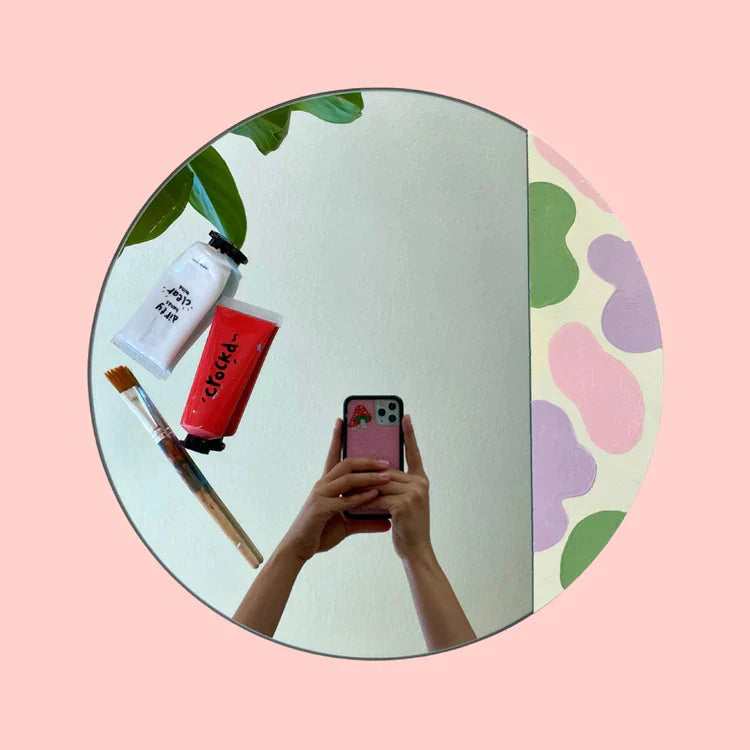 Decorate and Seal Anything
We've carefully designed 9 beautiful paints that enable you to mix an infinite amount of colours and 1 easy-to-use sealant to seal your creations to make them water resistant.
Crockd acrylic paints are thick, highly pigmented and long lasting. The best part is that they can be used on literally anything and with any of our major kits or craft supplies.
Mirrors, pottery, furniture, planters, walls - anything goes well with this basic kit. Checkout some more designs below with the paint pens combo.
we're on a mission to get the world out of its head and into its hands
We believe that creativity is an underrated mindfulness practice, not an innate quality or an end result — which is why our craft kits are designed to help you disconnect, reconnect and get dirty.
Eco Friendly

Hand Made

Fast Shipping

Cute Packaging
Frequently Bought Together